The Painter and the Priest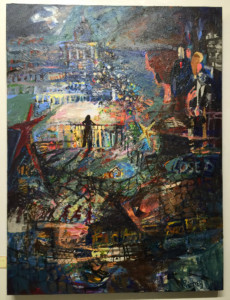 Richey has always known herself to be an artist, but in mid-life she came to understand that she is also a priest. These two vocations come together in her artwork. Skilled in various mediums, her art expresses a deep appreciation of life in all its mystery and beauty.
The Reverend Doctor Sharyn Richey Turner's extensive educational background began as art student at the University of Texas in Austin where she credits art professor John Guerin with inspiring her as a painter of the outdoors and where she felt her first sense of ministry to be as an art teacher. After earning her BFA and all levels certification to teach art she enjoyed a variety of settings from elementary school to college, and then pursued that interest by earning a Master's degree in Instructional Design. She designed instructional modules for the University of Houston. Expanding her skills as artist and writer she then started a graphics art company which she developed and directed for seven years before following a new sense of call as an Episcopal priest. After graduating from seminary with a M.Div. she served several churches in Texas where she found many opportunities to bring art into her ministry. In 2007 she wrote a dissertation on God imagery and gained a doctorate in Christian Nurture.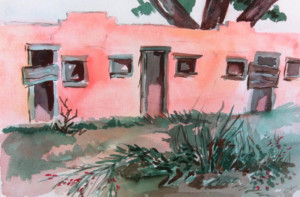 Richey retired from full time ministry in the church in order to apply herself full time to art where she continues to explore ways of bringing together art and spirituality. She voices a concern for the environment and the welfare of humanity. Her artistic disciplines include drawing and painting from nature and the human figure.
We asked Sharyn to respond to these questions:
1. How do you define real beauty?
For me, beauty is the sensation of alignment with Christ. By that I mean that beauty is that delightful, surprising and fleeting awareness that we exist beyond ourselves. It redirects our habitual inward focus with an affirmation of connectedness with all that is, which includes a sense of harmony and "home." We might call it a glimpse of grace in the ordinary of life—whether it is a glorious sunset, an act of courage, expression of love or those moments of "thin space" we often experienced in the sacraments.
2. What brings you inner peace?
My many years of experience as a parish priest have led me to find much inner peace in the Eucharist. Inner peace is also the feeling that one is fulfilling their vocation. Regular retreating and journaling helps me stay in touch with whatever that is—which can change during a lifetime. Doing artwork now brings me inner peace in a way that pastoral work has in the past.
3. Where do you find soul strength?
I am blessed to have good friends who are on the same pathway. Among those are my sisters of Belle Coeur—a sisterhood that emerged from the book "Ink and Honey." Our mutual support is empowering.
4. What makes you laugh?
I love babies and toddlers. Playing with them makes me laugh—perhaps because it brings out the child in me. Any kind of play—such as dancing.
5. Which female heroine inspires you this month?
I could name any number of women but one in particular comes to mind in this presidential pre-election month: Michelle Obama. As her husband's term comes to an end she could have removed herself from the spotlight and relentless racist attacts, but, she continues to step forward with grace, strength and much poise to promote for the welfare of others, especially women.
Artwork by Sharyn Richey can be seen October 1-26 at The Cloister Gallery, Christ Church Cathedral, 1117 Texas Avenue, Houston, and by appointment.