---
20th Anniversary Celebration Luncheon
February 3, 2018,  11:00am – 2:00pm
The Briar Club, 2603 Timmons Lane, Houston, TX 77027
---
Widening the Circle
honoring:
The Rev. Betty Adam
guest speaker:
The Very Rev. Cynthia Kittredge

The circle is an ancient and powerful symbol of wholeness, completion, protection, and community. It figures largely in Celtic lore and art, along with St. Brigid, our namesake. Please join us as we celebrate the work of Brigid's Place and honor its founder, the Rev. Betty Adam, while sharing our vision for "widening the circle" of our community.
Brigid's Place was founded on the desire of Betty Adam to create a safe community in which women (and sometimes men) would be free to explore their spirituality. Over its 20 year history, it has been a light and a treasure to the city of Houston, offering hundreds of programs to thousands of individuals. Focusing on education, celebration, and dialogue, Brigid's Place began as a small ripple with the widening invitation to come and be a part of this dynamic community. Programming has been wide and varied, with offerings as diverse as centering prayer, creative writing, interfaith conferences, feast day celebrations of Brigid, Mary, and Mary Magdalene, SoulCollage®, and the ongoing Anam Cara group. The Brigid's Place community has been the incubator for books, poetry, art, new groups, and important scholarship.
——————————-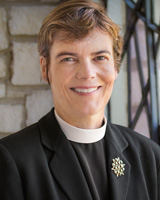 The Very Rev. Cynthia Kittredge, MDiv, ThM, ThD, Harvard Divinity School,  is the eighth dean and president of Seminary of the Southwest. She was appointed in 2013 after serving on the faculty as the Ernest J. Villavaso, Jr. Professor of New Testament and as academic dean. Committed to theological education for the church, Dean Kittredge has served as a member of the Steering Committee for Theological Education in the Anglican Communion, as Chair of the Board of the Episcopal Evangelism Society, and President of the Anglican Association of Biblical Scholars.
Prior to joining the seminary faculty in 1999, Dean Kittredge taught at Harvard University and the College of the Holy Cross. She serves as assisting priest at The Episcopal Church of the Good Shepherd in Austin.